Ocean Yantra
Sacred space/elements... Earth, Water, Sky, Sun... Energy
Powerful, balanced, spacious, peaceful
oil on canvas 2' x 2' x .75 ...$360
Malibu Lagoon mandala
Painted plein aire at Malibu Lagoon State Beach, a unique eco system Southern California saltwater marsh wetlands and native plants. Oil on canvas, 20"x 20" x 1.5", $360
Kanan Dume
Sacred Space/ Elements... Powerful Water Energy, Earth energy, Sun Energy, sky energy. Underlying flower of life sacred energy structure. Higher Power, Give thanks and praises!
oil on canvas, 2' x 2' x .75 .... $520
Couturie Forest Bayou Mandala 3
This mandala is painted plein aire, on site. Couturie Forest, New Orleans' City Park, is a sanctuary for old growth oaks, waterways, birds, fish, wildlife, and irie vibrations. Overall, this painting is peaceful and energetic, because that is my experience of this place. However, there is something going on here that is also part of the painting and that this painting can help bring discourse and awareness to: In the foreground, is the Couturie Forest section that is accessible to the citizenry. On the other side of the bayou is the part of City Park that had once been a golf course, and that after Hurricane Katrina and up until this Spring 2015, had been unfenced, accessible nature trails. City Park began contruction to return this land to a golf course this year, fencing in and policing the area for contruction. This land is a resource for wildlife, plantlife and citizens. I protest and oppose fencing and privatizing this land for elite interests. I am grateful for the part of Couturie Forest in City Park that remains preserved as a sanctuary for plants wildlife and citizens. I choose to find Inner Peace in Here in the Now.
Original Acrylic on Canvas Painting, 20"x20", sold
Bayou Mandala, Couturie Forest, II
This mandala, like all in this series, I painted plein aire in City Park. Painted at sunset, the brilliant light of the sun setting on the water comes through with vibrant depth. The compostion is framed by the old growth oak on the waters edge, and two paths lead out on both sides, Across the waterway are old growth oaks and cypress in the distance.
Bayou Mandala, Couturie Forest
This mandala has a ephemeral quality that reflects the emptiness and impermanence of reality, and the non-grasping of inner peace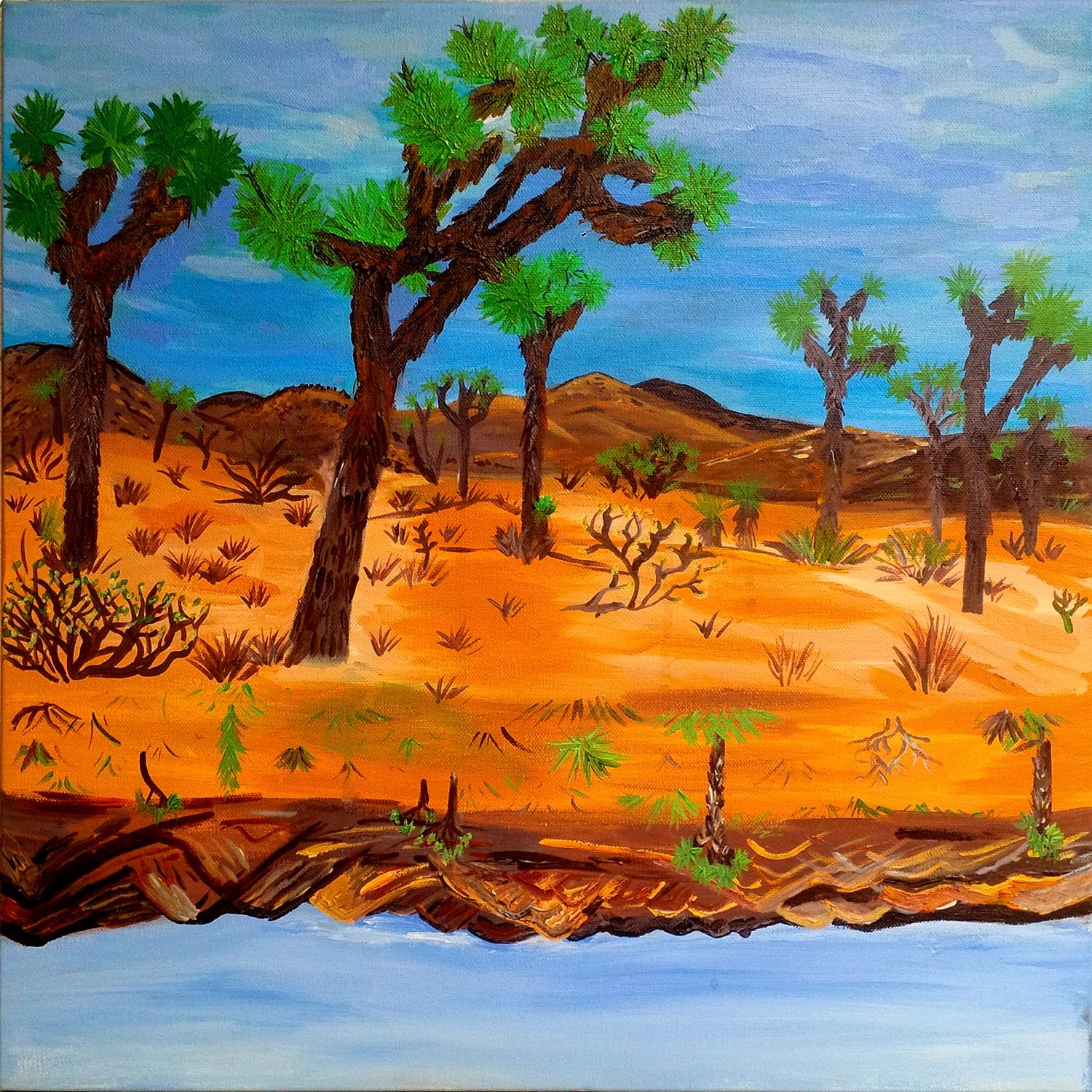 Desert Sound Wave
This landscape was painted plein aire, on site, in Joshua Tree at Bhakti Fest. There are two views here, although visually you can see the flipped viewpoint in the lower part of the canvas to be a river, rather than the sky that it is. Or you can see it as a mirage, although it is not, it is the view from other side, the two panoramic viewpoints from either side of easel. My best visceral understanding of this painting is that the desert is a sound wave. The mountains are sound waves and the devotion of mantra. The trees are dancers.
Original Acrylic on canvas, 20"x20" ... sold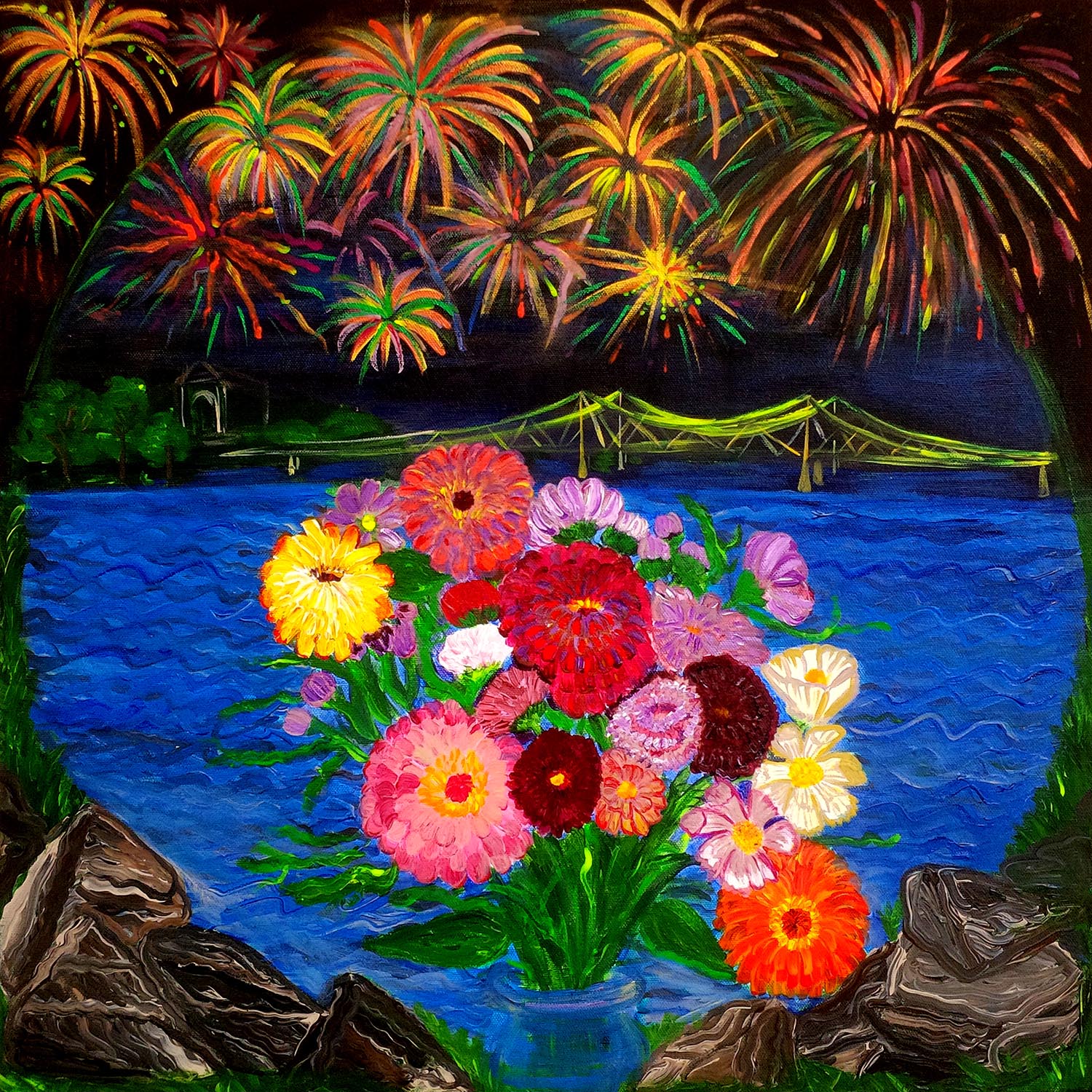 Flowers on the Fourth
This Nola Mandala still life landscape painting was painted from reality, the zinnias and cosmos were a locally grown bouquet that day, and the landscape painted plein aire.
Original Painting 20" x 20" ... private collection
St. Louis Basilica: Sanctuary Visualization
Mandala of the St. Louis Catherdral, with the inner Basilica view at the center, surrounded by Front and side elevations and the view from the back of the Cathedral on Royal Street. Available as hand-embellished Giclee with phases of moon and Resin on Historic Cypress weatherboard print.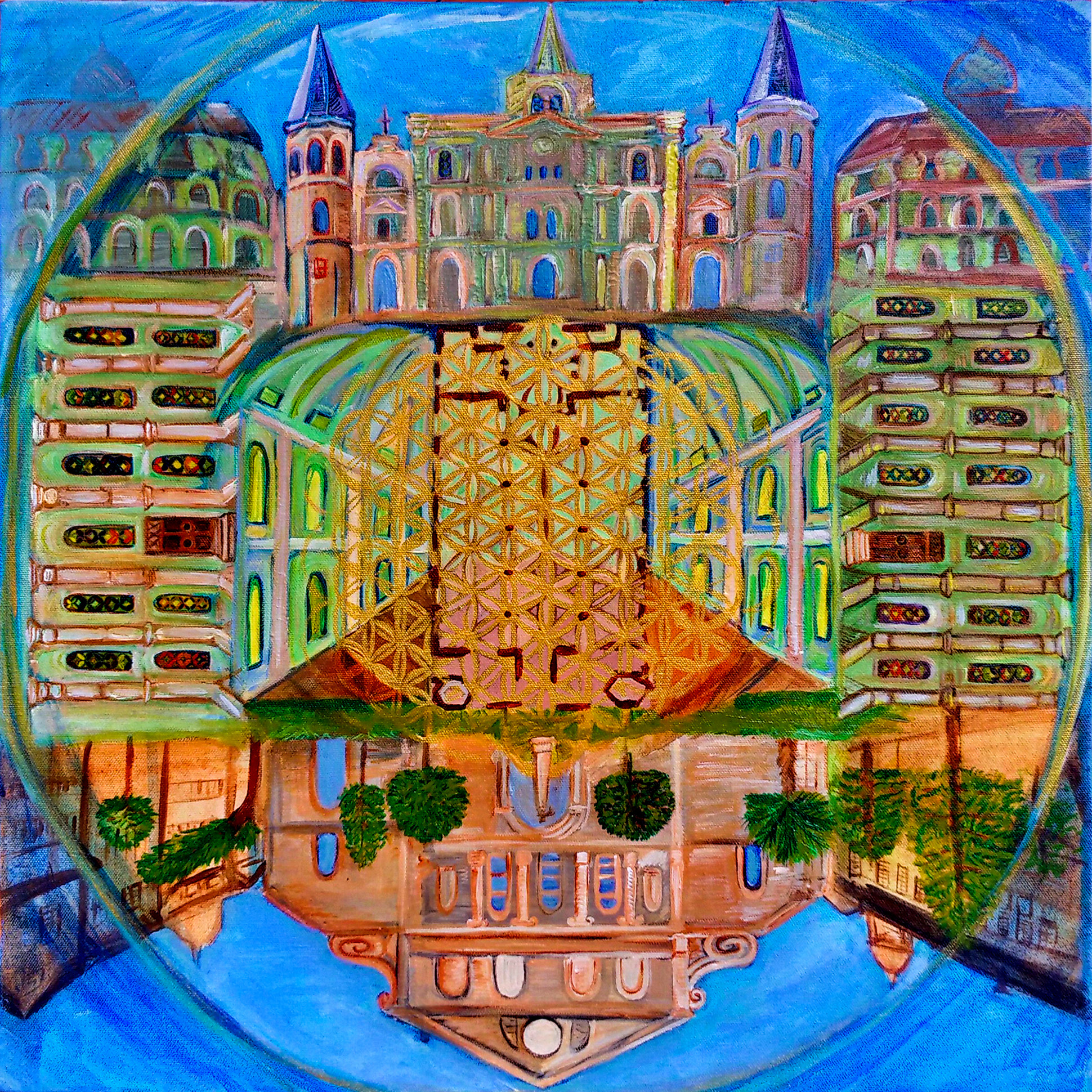 St. Louis Basilica: Sanctuary Visualization II
Mandala for Visualizing being in sacred space of the Basilica. At the center is Flower of Life sacred geometry, blueprint of the basilica, and inside hall view, surrounded front elevation (with Cabildo and State Museum), side views, and back view from Royal St.
Original 20"x20" acrylic on canvas, $500
Giclee and Resin / Historic Cypress Weatherboard prints availaible
Harbor at Lake
Plein Aire at Westlake Village. These ships will sail (safe harbor).
2' x 2' x 1.5" , acrylic (high pigment) on canvas ... available